The Terry quality promise: 30 days money back for every saddle!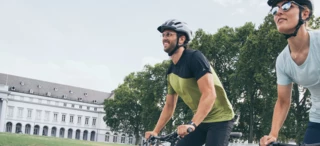 We are 100% convinced of the high quality and functionality of our saddles.
That's why we give you the best and most honest promise: You can test your Terry saddle for 30 days after purchase without any risk! Before buying, please ask your bike shop if they participate in the voluntary return programme.
This is how simply our zero-risk guarantee works
If you wish to return your Terry saddle within 30 days, it is important that you keep the original packaging and proof of purchase. These are required if you wish to return the saddle within 30 days. For a refund of the purchase price, please contact your bike shop. They will then need to complete the Terry Return Form and return it to us with the saddle. A direct return of the saddle and refund of the purchase price via Terry/RTI Sports is not possible. Please note that a saddle damaged in a fall or accident cannot be returned. All damage resulting from normal wear and tear of the saddle is covered by the warranty. So what are you waiting for? Try out the Terry saddle of your choice without any risk and find out if it is the perfect companion for your bike tours!
What to look out for when fitting your saddle
It is important to adjust your saddle correctly to avoid discomfort and ensure an efficient ride. Here we explain what to look for and how to check and adjust the necessary settings yourself.
Learn more