Terry saddles effectively stop the causes of seating discomfort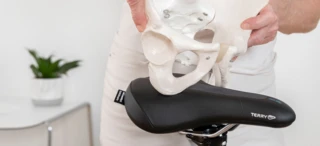 Saddles for women and men
Our saddles are designed precisely for the female and male anatomy. The stepless 3-zone comfort seat with ergonomic relief opening combats cycling discomfort - from mountain bikes to low-level e-bikes.
The Terry saddle technology
The 3-zone comfort principle
Cycling puts a lot of pressure on the sensitive seat area and the relatively small saddle surface. It is important to transfer the pressure from the perineal and genital areas to the relatively insensitive ischial tuberosities. Terry's 3-zone comfort principle does just that: no pressure on the perineum and genital area thanks to the relief opening (1), no pressure on the edges thanks to smooth transitions (2), even pressure distribution thanks to a seat surface that is adapted to the distance between the ischial tuberosities and the seating position (3).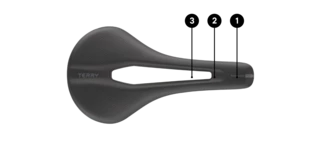 Seating without steps - without tilting moment
Cyclists change their sitting position instinctively to reduce individual pressure in the saddle or shifting body weight, uphill and downhill - it happens intuitively and without thinking. However, this natural movement is almost impossible with step saddles. Terry's 3-zone comfort principle, with its relief opening, allows you to sit in a stepless manner, with optimum pressure distribution and a high degree of freedom of movement from the rear to the top of the saddle.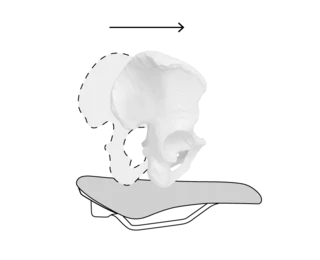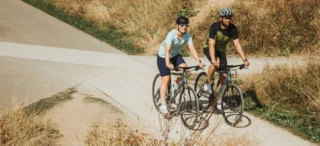 Terry - In the best of company
Your new Terry saddle comes from a professional and reliable environment with a long history in the international bicycle market. Terry is part of the brand portfolio of the RTI Group. In addition to the well-known bicycle accessories wholesaler RTI Sports, world-leading brands such as Ergon and Ca Go are also managed in every respect. Product development, marketing, sales - all under one roof in Koblenz.
What to look out for when fitting your saddle
It is important to adjust your saddle correctly to avoid discomfort and ensure an efficient ride. Here we explain what to look for and how to check and adjust the necessary settings yourself.
Learn more