Our saddle technologies for your maximum seating comfort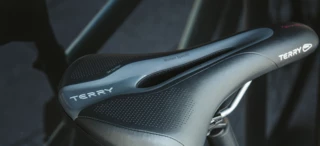 Optimal pressure distribution for more riding pleasure
Because a large proportion of your body weight is absorbed by the saddle surface, we at Terry put a lot of emphasis on high quality foam padding. The trick is that the specially designed padding allows your sit bones compress into the foam just enough to support your pedalling movements. This distributes the pressure evenly across your sit bones and relieves pressure on the sensitive perineum and genital area.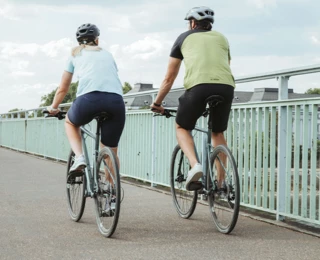 Pressure relief through innovative seat cushions
ErgoFoam is a dimensionally stable, resilient seat foam that is comfortable without the need to get accustomed to it. ComfortFoam offers even more cushioning for longer rides. Comfort Gel is used in many Terry saddles - for better pressure distribution or if you have a sensitive seating area. By the way: Saddles should never be too soft, otherwise you will feel uncomfortable. That's why all Terry saddles have the optimum foam thickness and firmness.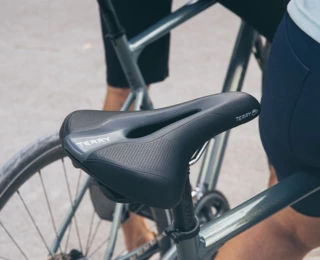 Shock absorbers - your back will thank you for it
BASF's Cellasto® microcellular dampers offer excellent damping properties, are durable and easy to maintain. The shock absorbers are compressed up to 75% in height during impact - a tremendously high level of comfort. Plus, all Terry saddles with shock absorbers can be fitted with Topeak® QuickClick™ saddle bags.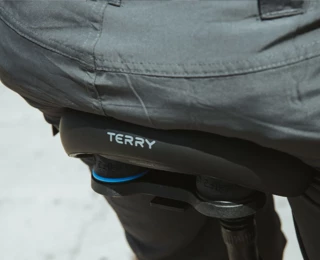 Durable surfaces
Terry saddles are easy to clean, weatherproof and durable. We use resilient surface materials that allow you to move freely in the saddle: WeatherMax DuraLux and DuraSilk. This means that Terry saddles will give you the best riding pleasure for a long time. For the best climate on hot days, we have also equipped the top model of the Fisio range with ClimaVent membrane fabric, which ensures continuous ventilation and less sweat.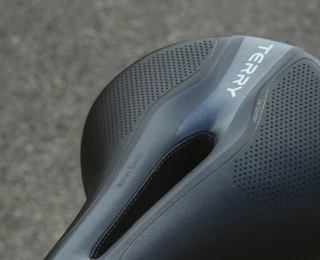 Our expertise in medicine, ergonomics and kinematics
In the Terry Ergonomics Laboratory, our experts work with the latest pressure measurement techniques and in collaboration with many other disciplines to develop the optimum saddle for every purpose. The aim is to effectively combat the causes of sitting discomfort.
To the Terry Experts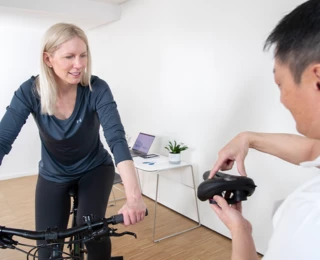 What to look out for when fitting your saddle
It is important to adjust your saddle correctly to avoid discomfort and ensure an efficient ride. Here we explain what to look for and how to check and adjust the necessary settings yourself.
Learn more